Sawadee krap and welcome to Thailand
When you think of this Southeast Asian country, you think of wonderful beaches, turquoise blue sea, and paradisiacal islands. But when I started my trip to Thailand, I was more interested in the country's culture and people. Therefore, I traveled through the less touristy north and west, but also visited islands and dream beaches in the east of Thailand. The country made a deep impression on me and I experienced many unforgettable moments. That's why I can really recommend it. Thailand has something to offer for everyone, be it culture, beaches, nature, or wildlife. So have fun reading, get some inspiration, and plan your own adventure in Southeast Asia.
All Info for your Trip to Thailand
My trip through Thailand lasted a total of about 6 weeks, during which I traveled to Thailand 2 times. It was an exciting time in which I was able to get to know incredible landscapes, wonderful culture, and lovely people. I started in the capital Bangkok, where I had a culture shock. My next destinations were the Erawan National Park, a ride on the Thailand-Burma Railway ("Death Railway") and a visit to a sanctuary for abused elephants near Kanchanaburi. Visits to the temple cities of Ayutthaya and Sukhothai followed before I traveled to the north of Thailand. There, hikes in the rainforest, the hippie village of Pai, raging waterfalls, original hill tribes and the wonderful cities of Chiang Mai and Chiang Rai awaited me. From the north of Thailand, I traveled further into neighboring Laos via the Mekong River. During my second visit, I mainly explored the gorgeous island of Koh Chang in eastern Thailand.
You can find my itinerary and destinations on the following map. Afterwards, I'll show you my personal highlights of Thailand before you get an overview of all my blog posts.
Below you can see all blog articles I wrote about my backpacking trip in Thailand. In my travel reports you can read my personal experiences about the travel destination Thailand. I will introduce you to the most beautiful places and sights in Thailand and give you valuable tips for your holiday in Thailand.
The north of Thailand is touristically quieter and more relaxed than the southern part of the country. However, the area is …

Thailand was one of the few countries that was never colonized and is free from western influences. A fascinating world that …

The north of Thailand is characterized by green jungle, vast mountains, and diverse culture. In particular, the city of Chiang Mai …

Thailand is a popular travel destination and millions of tourists from all over the world travel to the Southeast Asian country …

Koh Chang is the second largest island in Thailand and is located in the southeast near the border with Cambodia. Derived …
If you prefer to travel in a group, there is a possibility to join a guided tour. You don't have to worry about transportation, excursion planning, or food, but you can completely focus on the beauty of Thailand. I recommend booking a tour through Viator portal, where countless activities around the world can be booked easily and safely.
Travel Preparations for Thailand
The references on this page are so-called commission links. You can find an explanation here.
The destination is set. You are going to Thailand. Anticipation is spreading. Who doesn't love to plan the upcoming trip?! I will help you and give you all the important information and tips for your travel preparation. Have fun planning your trip!
What is the best time to travel to Thailand, I can not give you a general answer. Because it depends on how your trip should look like. What do you want to do? In which regions do you want to travel? In general, you can say that the main season lasts from November to March.
Thailand is divided into four climate zones. In central Thailand around Bangkok and Koh Chang the rainy season starts in May and ends in October. For a visit I recommend November to April, although it gets very dry and hot in March and April. The average temperature is above 30 degrees all year round. In fact, Bangkok is the hottest capital city in the world.
In northern Thailand with Chiang Mai, Pai and Sukhothai, the climate is warm Mediterranean. It is a bit cooler here than in the south, but the average temperature is always above 30 degrees even here. The optimal time to travel is from October to May, but in April and May it is very dry and hot.
Southern Thailand is characterized by beautiful islands and beaches. But while on the west side (Phuket, Koh Phi Phi) between November and April is the best time to travel, a visit to the southeast (Koh Samui, Koh Phangan) is rather recommended between June and October.
Ultimately, it depends on where you want to go and what you want to experience. In any case, Thailand is worth a trip at any time of the year. I was there in March, April, June, and November.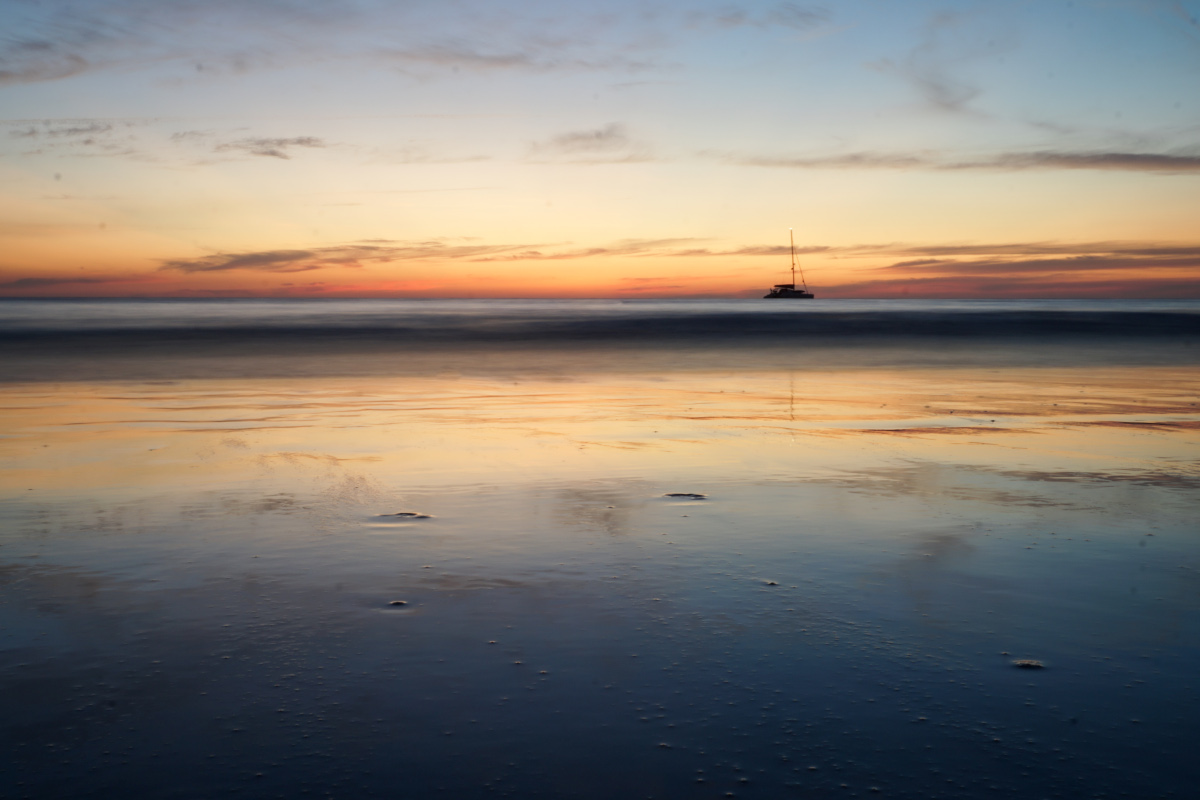 Getting to Thailand & Transportation
Entry Requirements
Most citizens in Europe can stay in Thailand for 30 days without a visa. A passport that is valid for at least 6 months is sufficient for entry. In addition, a ticket is required that confirms departure within the 30 days. Back then I booked a cheap bus ticket to Laos as proof, but nobody wanted to see it. The stay can be extended by a further 30 days at the Immigration Office. However, it is also possible to travel to a neighboring country to then be allowed to re-enter Thailand for 30 days. The government is now enforcing these so-called "visa runs" more strictly and in the worst-case scenario, you will be refused entry. If you want to stay in Thailand for more than 60 days, get a visa.
Entry by plane
There are many airports in Thailand, but for international flights from Europe only Bangkok and Phuket are relevant. From Europe, many airlines fly to the Thai capital. Direct flights are available, for example, from Brussels, Paris, Amsterdam, Frankfurt, Copenhagen, Oslo, London, or Vienna. The flight duration is about 10 to 14 hours. For the flight search, I always use Skyscanner* and have always been very satisfied with the bookings.
Entering by train
There are several train connections from neighboring countries to Thailand. Trains from Cambodia, Malaysia and Laos cross the border into Thailand. Sometimes a change of trains at the border is necessary to travel further inland. 
Train travel in Thailand

Surprisingly, the country has quite a good rail network, so you can reach many regions by train. The trains are slow, but much safer than buses and minivans. Train tickets are also very cheap in Thailand. However, seats with air conditioning are usually much more expensive. For example, you can get from Bangkok to Chiang Mai for as little as 250 baht, while a seat in a sleeping car costs 1100 baht.
For booking I can recommend 12GoAsia*. There you can safely and easily book train and bus tickets in advance and don't have to struggle at the ticket office in the train station.
Entering by bus
From all neighboring countries it is possible to enter Thailand by bus. Mostly the buses stop at the border and wait until all passengers have passed the border controls. At some borders the bus has to be changed. I advise to buy tickets at the official ticket counters in the bus stations to avoid being ripped off. Safe is a booking through the provider 12GoAsia*, with which I have already booked several times myself.
Bus travel in Thailand

In Thailand, there are buses, minivans or other transport companies specializing in tourists on every corner. Accordingly, there are also many companies that you should better avoid. It is best to buy tickets only at the official ticket offices or at your accommodation. There you will also get information about bus lines and timetables. As already mentioned, I also recommend 12GoAsia for booking your bus tickets.
Thailand is a very popular travel destination and tourism is booming, so you will find many hotels and hostels, especially in the popular vacation regions. If you like it fancy, you can even stay in Thailand directly on the beach, in a jungle tree house, with ethnic hill tribes or other quirky accommodations. If you prefer it more authentic and simpler, I recommend one of the many Thai private accommodations. These mostly family-run guesthouses can be found all over the country. In the low season you can also spontaneously look for accommodation on the spot. However, the easiest way is to book via Booking.com* It is worth to compare, because the quality of the hotels varies extremely at the same price level. A bed in a dormitory can be found for as little as 100 baht per night, while a simple double room starts at around 350 baht. Due to the variety of hotels, you are sure to find accommodations in Thailand that meet your needs.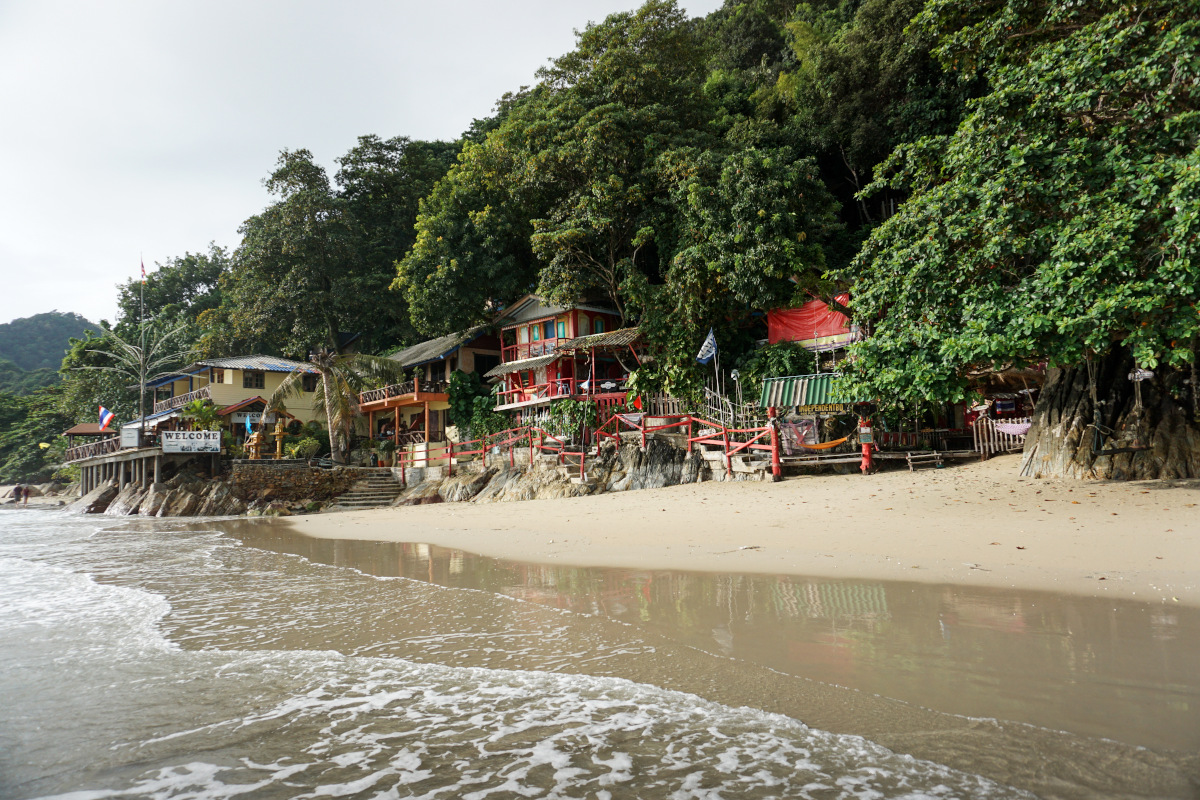 First things first: In Thailand you pay with Thai Baht (THB), so you have to take care of a currency exchange. Personally, I used my travel credit card to withdraw money in the country free of charge. In general, the cost of living in Thailand is about 40% lower than in Germany.
Car driving
Rental car: 30 € to 40 € per day for a week

Rental Scooter: 4 € to 6 € per day

Gasoline: 1 € per liter (as of December 2021)

Parking: mostly free

Public transport
Train: very cheap, Example: Bangkok – Chiang Mai between 6 € and 23 €

Bus: single trip in a city for 0.6 €

Overnight stay
Hotels: 8 € to 40 € for 2 persons (depending on region, travel time and type of accommodation)

Dorm: from 3 €

Food and Drinks
Supermarket: About 15% cheaper than Germany

Restaurant: 1.50 € to 5 €

Beer: 1 € to 3 € for a half liter

Sights
The Royal Grand Palace: 13 €

Erawan Waterfalls: 8 €
Khao Yai National Park: 10 €
Thai cuisine is very versatile and is composed of many cultural influences. It combines Chinese, European, and Indian elements and thus generates its own style. In general, the dishes in Thailand are very meat-heavy, but there is also a variety of vegetarian dishes.
It is common for Thai dishes to be served with a choice of pork, chicken, beef, or seafood. Therefore, when preparing them, it is easy to omit the meat completely or replace it with tofu. A note such as "mang sa wirat" (no meat) or "gin jay" (vegan) is sufficient when ordering. However, it should be said that many Thai dishes are prepared with fish sauce. For example, the following dishes can be ordered as a vegetarian option.
The most popular dish among tourists is Pad Thai. This is rice ribbon noodles with eggs, fish sauce, tamarind paste, chopped garlic cloves, chili powder and mung bean sprouts. The dish is garnished with peanuts, cilantro leaves and lime.
Phat kaphrao is the most popular Thai dish and can be traditionally prepared in many variations. The classic version is made with minced pork and combined with spicy holy basil, garlic, soy sauce, fish sauce and chili. Rice is served with it. The vegetarian version is prepared with tofu or mushrooms. Beware, Phat kaphrao is usually very spicy. The dish was my absolute favorite on my Thailand trip.
Khao soi is only served in northern Thailand. It is a soup-like dish made with a mixture of deep-fried crispy egg noodles and boiled egg noodles. It is accompanied by scallions, lime, fried chilies, and meat in a curry-like sauce with coconut milk. The vegetarian version is prepared with tofu. Very tasty.
There are countless other dishes in Thailand that can be prepared vegetarian. In rural areas it is helpful to know the Thai words, but in cities there are vegetarian dishes everywhere.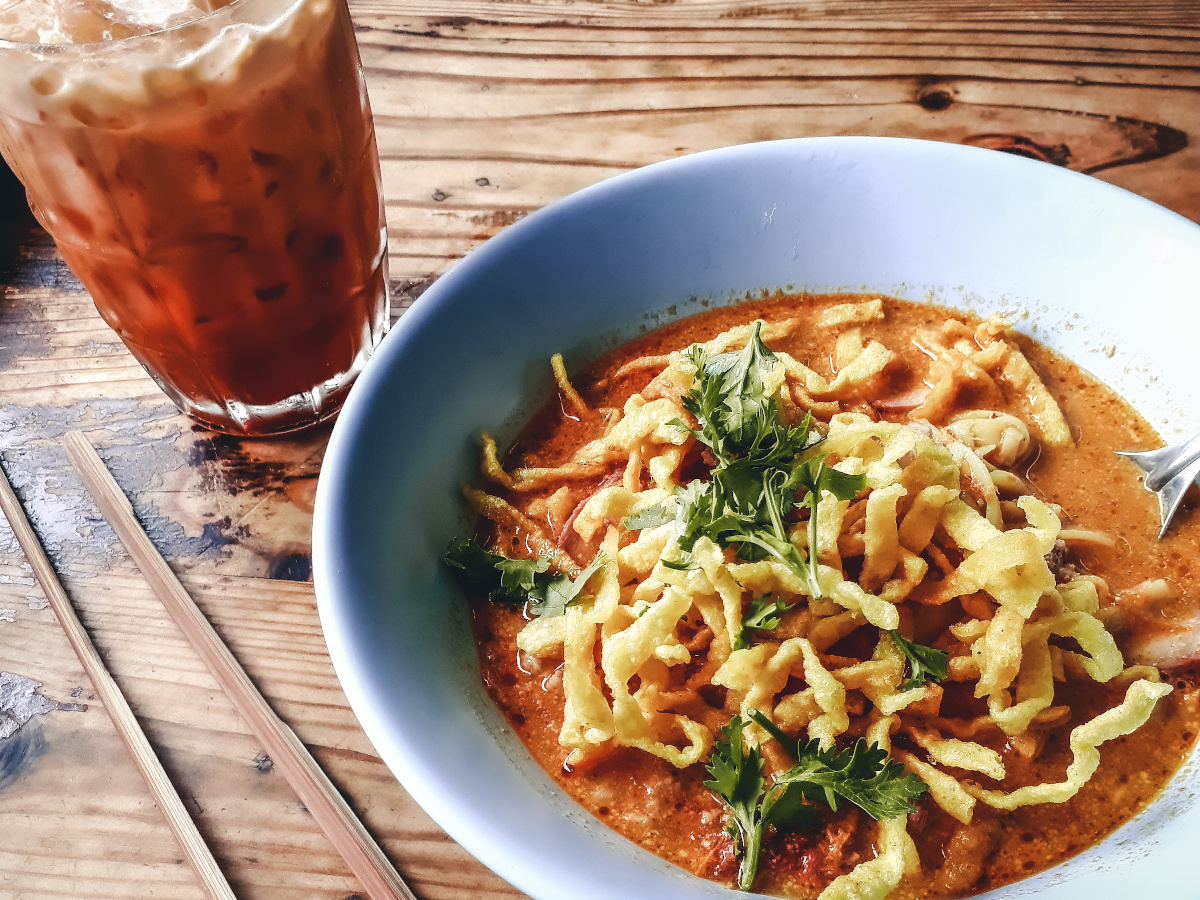 Finally, I would like to recommend a few travel guides. Personally, I like especially the first travel guide, because the author also addresses lesser-known areas in Thailand. The book is very useful especially for individual travelers. But also, the other travel guides promise additional tips and inspiration for your trip through Thailand. The last book is especially interesting if you are fascinated by temples and their history.
The references marked with an asterisk (*) are so-called commission links. If you click on such a referral link and buy something, I get a small commission from the provider. For you, the price does not change! I see it as a small thank you for my work and look forward to any support.