Szia and welcome to my Hungary blog
Hungary is best known for the magnificent capital Budapest, which attracts numerous tourists to the country. The city's landmark is the parliament building on the Danube, but the Fishermen's Bastion and Castle Palace are also among the sights of Budapest. Lake Balaton, which is the largest inland lake in Central Europe, is no less popular. Tourists from all over the world cavort here and enjoy the sun and water. Whether nature, party, culture or wellness, everyone will find what they are looking for at Lake Balaton. But Hungary has more to offer than the two obvious travel destinations. Puszta, for example, is the largest steppe area in Europe and a paradise for hikers. You can also marvel at picturesque landscapes in the mountains of the Bükk National Park or in the Aggtelek National Park. In addition, there are many castles and palaces in Hungary that are waiting to be explored. And even so, a trip to Hungary offers a lot of culture, for example in the original village of Hollókő. I really enjoyed my trip through the small landlocked country, and I can recommend everyone to get an idea of ​​Hungary as a travel destination by yourself.
All Info for your Trip to Hungary
My trip through Hungary lasted 10 days. An exciting time in which I got to know incredible landscapes, wonderful places, and lovely people. I started in the capital Budapest, which in my opinion is one of the most beautiful cities in Europe. My next destinations were several regions in the Bükk National Park. There, I enjoyed the beauty of the mountains, great caves and raging waterfalls while hiking. After a stopover in the traditional village of Hollókő, I spent several days at Lake Balaton. There, incredible sights awaited me, such as the largest active thermal lake in the world, beautiful lavender fields or the spectacular volcanic hills in the north. In addition, I enjoyed of course the beautiful beaches and the sun at Lake Balaton. I would have loved to spend more time in the country, because these days went by way too fast.
You can find my itinerary and destinations on the following map. Afterwards, I'll show you my personal highlights of Hungary before you get an overview of all my blog posts.
Below you can see all blog articles I wrote about my Hungary road trip. In my travel reports you can read my personal experiences about the travel destination Hungary. I will introduce you to the most beautiful places and sights in Hungary and give you valuable tips for your holiday in Hungary.
Lake Balaton is the largest inland lake in Central and Western Europe, although the average depth of the lake is only …

When travelling to Hungary, most people think of a vacation at Lake Balaton. In fact, along with the capital Budapest, Lake …

People tend to associate Hungary with a holiday at Lake Balaton or a city trip to Budapest rather than an adventure …

Hungary lies in a low plain surrounded by the Carpathian Mountains to the north and east. But in the north-east of …

In the north-east of Hungary, you can find the foothills of the Carpathian Mountains, which are known as the North Hungarian …
If you prefer to travel in a group, there is a possibility to join a guided tour. You don't have to worry about transportation, excursion planning, or food, but you can completely focus on the beauty of Hungary. I recommend booking a tour through Get Your Guide portal, where countless activities around the world can be booked easily and safely.
Travel Preparations for Hungary
The references on this page are so-called commission links. You can find an explanation here.
The travel destination is set. You are going to Hungary. Anticipation is spreading. Who doesn't love to plan the upcoming trip?! On my travel blog, I will help you and give you all the important information and tips for your travel preparation. Have fun planning your trip in Hungary!

Best Time to Travel for Hungary
I can't give you a general answer about the best time to travel to Hungary. Because it depends on how your trip should look like. What do you want to do? In which regions do you want to travel? In general, you can say that the main season lasts from May to September. Hungary has a continental climate. So, you can expect hot summers and cold winters. The landlocked country is surrounded by mountain ranges, so it remains relatively dry in Hungary throughout the year.
For active vacations and hiking I recommend you to travel between May and September. But spring and autumn are also suitable for hiking. If you also want to sunbathe, you should rather come in high summer.
I traveled through Hungary in July. It was generally very hot and dry. Unfortunately, it is crowded at this time at Lake Balaton. Ultimately, it depends on where you want to go and what you want to experience. Hungary is worth a trip at any time of the year.
Getting to Hungary & Transportation
Thanks to the membership in the European Union, the entry to Hungary for EU citizens is possible without any problems and with an identity card.
Entry by plane
There are several airports in Hungary, but Budapest is particularly relevant for international flights. From Germany, many airlines fly to the Hungarian capital. There are direct flights, for example, from Berlin, Cologne, Hamburg, Frankfurt, or Nuremberg. For the flight search, I always use Skyscanner* and have always been very satisfied with the bookings.
Entering by train
There are several train connections from European cities to Hungary, all of which go to Budapest. From Munich, Railjets run daily via Vienna to Budapest. From Hamburg, a Eurocity runs via Berlin, Prague, and Bratislava to Budapest. Night trains run from Berlin and Munich. More information and timetables can be found on the Deutsche Bahn website.
Train travel in Hungary
The country has a very good railroad network, so you can reach all regions by public transport. Train tickets are also very cheap in Hungary. You can find more information and timetables on the website of the railroad company.
Entering by bus
The cheaper alternative is to use long-distance buses, which travel to Hungary from several major European cities. For example, there are connections from Berlin, Vienna, Bratislava, Munich, or Warsaw to Budapest.
Bus travel in Hungary
The country has a very good bus network, so you can reach all regions by public transport. Bus tickets are also very cheap in Hungary. You can find more information and timetables on the website of the bus company.
Entering by car
You are most flexible with your own car. The entry is possible without problems via Slovakia, Slovenia, Croatia, Serbia, Romania, Ukraine or from Austria. However, you need a vignette for Hungary, which costs 3640 ft (10 €) for a normal car for 10 days and 4970 ft (13,50 €) for 30 days. Road conditions in Hungary are excellent.
Hungarian Hotels & Accommodation
Tourism has long since arrived in Hungary, so you will find many hotels, especially in the popular holiday regions. If you prefer something more authentic and simpler, I recommend one of the many Hungarian private accommodations. You can find these mostly family-run guesthouses all over the country. Many of them stay away from the well-known online portals, so you have to be active by telephone in advance. In the off-season you can also spontaneously look for accommodation on site. However, the easiest way to book is via Booking.com* Due to the variety of hotels, you are sure to find accommodations in Hungary that meet your needs.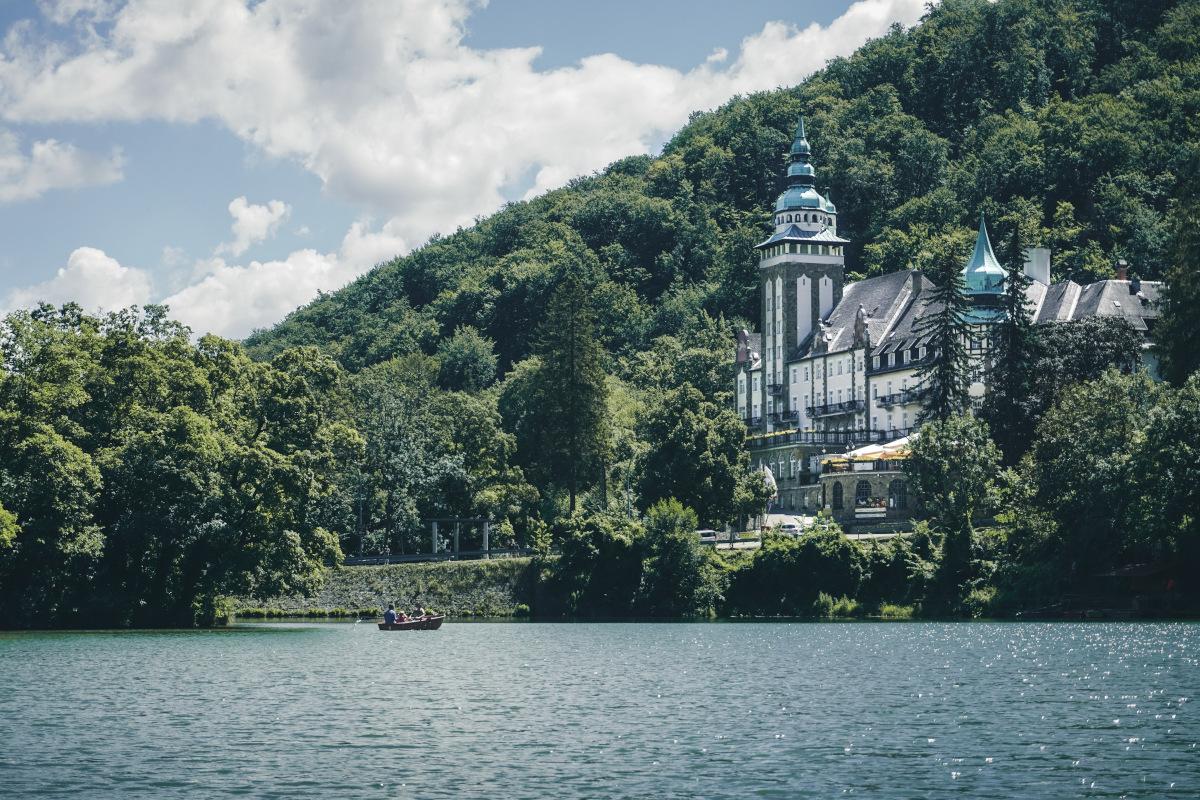 Recommended accommodations on my trip
Booking.com-Links
First things first: In Hungary you pay with Forint, so you have to take care of a currency exchange. Personally, I used my travel credit card to pay and withdraw money in the country free of charge. In general, the cost of living in Hungary is about 36% lower than in Germany (as of June 22).
Food & Vegetarian Dishes in Hungary
Hungarian cuisine is very versatile and is composed of many cultural influences. It combines Austrian, Slovak, and Czech elements and thus generates its own style. In general, however, the dishes in Hungary are very meat-heavy, but there are also a few vegetarian dishes.
Lecsó is a popular traditional dish in Hungary. It is a vegetable ragout made of yellow peppers, tomatoes, onions, and ground hot paprika. However, the onions and peppers may be sautéed in bacon. Therefore, it is best to ask beforehand.
Gombapaprikás is a vegetarian stew with mushrooms steamed with tomatoes, onions, paprika powder, garlic, flour, and sour cream. After preparation, the dish is usually garnished with chopped parsley.
Another Hungarian stew is called Főzelék, which is usually prepared with peas, lentils, spinach, and potatoes. Onions, butter, flour, sour cream, and milk are used to thicken it.
Probably the most famous dish in Hungary is Lángos. In the classic version, the fried yeast dough pancake is spread with sour cream and cheese. However, there are many different variations, such as a Lángos with stewed onions, peppers and tomatoes. The delicious pancake is a typical street food in Hungary.
In almost every Hungarian restaurant I found a vegetarian alternative like burger or pizza. Delicious fried cheese with fries and salad is also widely available.  As you can see, there are choices for vegetarians in Hungary as well.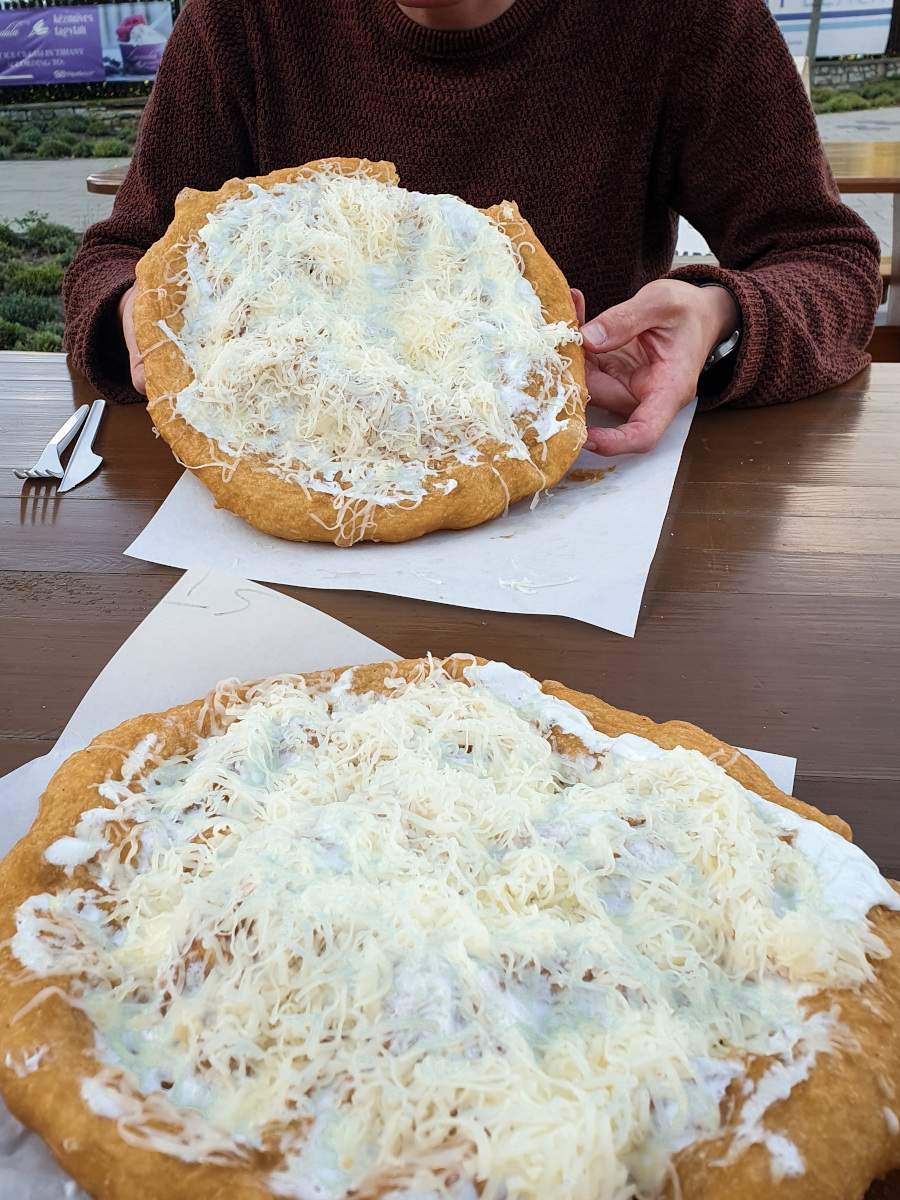 Last but not least, I would like to recommend a few travel guides on this travel blog. I personally like the hiking guide series. The books are small and handy, offer useful information about hiking, and detailed descriptions of the hikes. I was able to discover great hikes that I would not have found without these books. Not only in Hungary. The travel guides give you additional tips and inspiration for your trip to Hungary. The books are especially useful for individual travelers.
The references marked with an asterisk (*) are so-called commission links. If you click on such a referral link and buy something, I get a small commission from the provider. For you, the price does not change! I see it as a small thank you for my work and look forward to any support.