Ahoj and welcome to my Slovakia blog
The small state in the center of Europe is a land of superlatives. In Slovakia, for example, there are over 600 castles and palaces worth seeing, but only 5.4 million inhabitants. Therefore, Slovakia has the highest number of castles per capita on earth. Indeed there are many traditional villages and idyllic towns, but also the lively and modern Bratislava. The city borders on Austria and Hungary and is therefore the world's only capital bordering two countries. Moreover, Slovakia is said to be the country with the world's most beautiful women. If you are looking for the pure experience of nature, this country is exactly the right place. In fact, mountains, lakes, caves and wild landscapes and animals run through the whole country. The High Tatras are considered to be the smallest high mountains in the world in terms of area. In short, Slovakia has something for everyone, making it a great travel destination. I will definitely visit the country again.
All Info for your Trip to Slovakia
My trip through Slovakia lasted a week. An exciting week in which I got to know incredible landscapes, magnificent castles and lovely people. I started in the capital Bratislava, which in my opinion is completely underestimated. Devín Castle and Beckov Castle, two of Slovakia's endless castle ruins, were my next destinations. After a stop at the Demänová Ice Cave, I reached the high mountains of High Tatras. I spent several days there, enjoying the beauty of the mountains on hikes. After a short detour to Spiš Castle, I hiked through the green gorges of the Slovak Paradise. I would have loved to spend more time in the country, as this week went by way too fast. I definitely recommend staying longer.
You can find my itinerary and destinations on the following map. Afterwards, I'll show you my personal highlights of Slovakia before you get an overview of all my blog posts.
Below you can see all blog articles I wrote about my Slovakia road trip. In my travel reports you can read my personal experiences about the travel destination Slovakia. I will introduce you to the most beautiful places and sights in Slovakia and give you valuable tips for your holiday in Slovakia.
Anyone who has ever looked for a European alternative to the Alps have already come across the High Tatras. In fact, …

Slovakia is known for unspoiled nature and breathtaking landscapes. However, the country also has a lot to offer culturally. Did you …

The High Tatras are a popular tourist destination in Slovakia. In addition, the mountains, which are assigned to the Carpathian Mountains, …

The High Tatras are part of the Tatra Mountains, which in turn are part of the Carpathian Mountains. Two thirds of …

The Slovak Paradise National Park (Slovenský raj) is in eastern Slovakia and is a natural continuation of the slopes of the …
If you prefer to travel in a group, there is a possibility to join a guided tour. You don't have to worry about transportation, excursion planning, or food, but you can completely focus on the beauty of Slovakia. I recommend booking a tour through Get Your Guide portal, where countless activities around the world can be booked easily and safely.
Travel Preparations for Slovakia
The references on this page are so-called commission links. You can find an explanation here.
The destination is set. You are going to Slovakia. Anticipation is spreading. Who doesn't love to plan the upcoming trip?! On my travel blog, I will help you and give you all the important information and tips for your travel preparation. Have fun planning your trip in Slovakia!
Best Time to Travel in Slovakia
I can't give you a general answer about the best time to travel to Slovakia. Because it depends on how your trip should look like. What do you want to do? To which regions do you want to travel? In general, you can say that the main season lasts from June to the end of August. In the cities, the thermometer can reach values far above 30 degrees in summer, while it is usually much cooler in the mountains.
For active vacations and hiking in the Carpathians I recommend you to travel between May and September. But also April and October are suitable for hikers who want to have their space as much as possible. In winter it gets icy in the mountains and many ski slopes are waiting for you.
I traveled through Slovakia in July at that time. It was generally very hot, but in the mountains partly rainy and fresh. We also encountered many other tourists, including on the hiking trails in the High Tatras. Ultimately, it depends on where you want to go and what you want to experience. In any case, Slovakia is worth a trip at any time of the year.
Getting to Slovakia & Transportation
Thanks to the membership in the European Union, the entry to Slovakia for EU citizens is possible without any problems and with an identity card.
Entry by plane
There are several airports, but Košice is particularly relevant for international flights. Bratislava has a large airport, but its proximity to Vienna makes it uninteresting for international airlines. I also flew to Vienna at that time and took a bus from there towards Bratislava. For the flight search I always use Skyscanner* and so far I was always very satisfied with the bookings.
Entering by train
There are several train connections from European cities to Slovakia via Vienna or Budapest to Bratislava. In addition, there is also an overnight train from Berlin directly to Bratislava. The alternative is going to Vienna, from where there are hourly trains and buses to Slovakia.

Train travel in Slovakia
The country has a very good railroad network, so you can reach all regions by public transport. Train tickets are also very cheap in Slovakia. You can find more information and timetables on the website of the railroad company or in the app cp.sk.
Entering by bus
The cheaper alternative is to use long-distance buses that travel to Slovakia from several major European cities. For example, there are connections from Paris, Vienna, Budapest or Berlin to Bratislava.
Bus travel in Slovakia
The country has a very good bus network, so you can reach all regions by public transport. Bus tickets are also very cheap in Slovakia. You can find more information and timetables in the app cp.sk.
Entering by car
You are most flexible with your own car. The entry is possible without any problems via the Czech Republic, Austria, Poland or Hungary. However, you need a vignette for Slovakia, which costs 10 euros for 10 days and 14 euros for 30 days for a normal car. The road conditions in Slovakia are good.
Slovak Hotels & Accommodation
Tourism has arrived in Slovakia, so you will find many hotels, especially in the popular vacation regions. If you prefer it more authentic and simpler, I recommend one of the many Slovak private accommodations. These mostly family-run guesthouses can be found all over the country. Many of them stay away from the well-known online portals, so you'll have to call ahead. In the off-season, however, you can also spontaneously search for accommodation on site. However, the easiest way is to book via Booking.com* Due to the variety of hotels, you are sure to find accommodation in Slovakia that meets your needs.
If you want to stay in a mountain hut in the High Tatras, I recommend the – admittedly somewhat outdated – homepage of the Tatra region. There you can find the names and phone numbers of the mountain huts.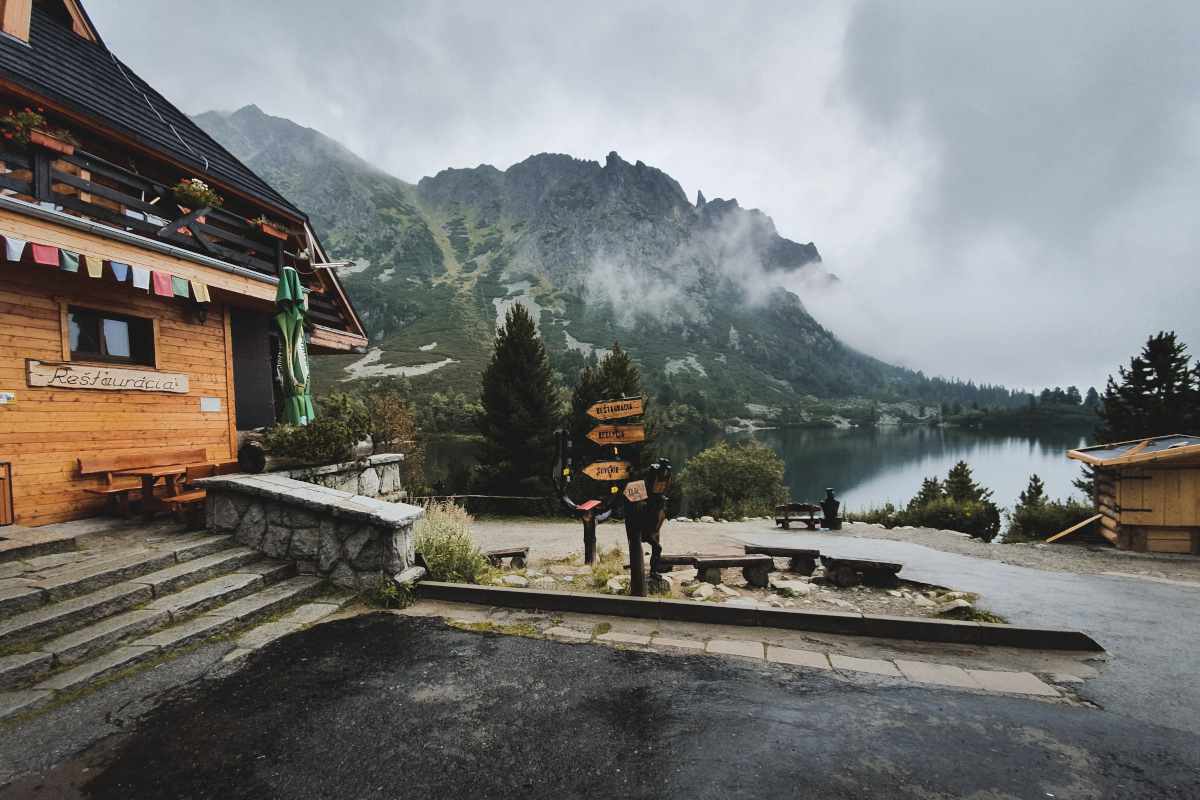 Recommended accommodations on my trip
Booking.com-Links
First things first: In Slovakia, you pay with euros, so you don't have to worry about exchanging currencies. In general, the cost of living in Slovakia is about 31% cheaper than in Germany (as of June 22).

Slovakia is a great destination for active vacations and hiking. In the following blog post you will learn everything about hiking in Slovakia. I give helpful information and valuable tips to make your hiking vacation an unforgettable experience.
Slovakia is a small state in the center of Europe. Many people do not know that more than two thirds of …
Food & Vegetarian Dishes in Slovakia
Slovak cuisine is very versatile and is composed of many cultural influences. It combines Hungarian, Austrian, and Czech elements and thus generates its own style. In general, the dishes in Slovakia are very meat-heavy, but there are also some vegetarian dishes.
Bryndzové Halušky is one of the most popular traditional dishes in Slovakia. Halušky are dumplings mixed with a soft sheep cheese (bryndza). The dish is typically served with bacon, but it can be omitted upon request.
Another Slovak dish that uses this sheep cheese is bryndzové pirohy. These are pirogi stuffed with the bryndza. This dish is also usually served with bacon.
Lokša is a traditional potato flatbread that is baked. It can be topped with almost anything, which is why there are many vegetarian variants.
Also popular are the vegetarian versions of peppers or zucchini, which are usually stuffed with minced meat. Only rice, vegetables, legumes, and spices are used as fillings.
Cesnakova polievka is a delicious soup with garlic and melted cheese, served with croûton.
In almost every Slovak restaurant I found a vegetarian alternative like burger or pizza. Delicious fried cheese (vyprazany syr) with fries and salad is also often found. As you can see, there is a lot of choice for vegetarians in Slovakia.
Last but not least, I would like to recommend a few travel guides on this travel blog. I personally like the hiking guide series. The books are small and handy, offer useful information about hiking and detailed descriptions of the hikes. I was able to discover great hikes that I would not have found without these books. Not only in Slovakia. The guidebook gives you additional tips and inspiration for your trip to Slovakia. The book is especially useful for individual travelers.
The references marked with an asterisk (*) are so-called commission links. If you click on such a referral link and buy something, I get a small commission from the provider. For you, the price does not change! I see it as a small thank you for my work and look forward to any support.